Review on "Spin Dictators by Sergei Guriev and Daniel Treisman" and notes-and-words.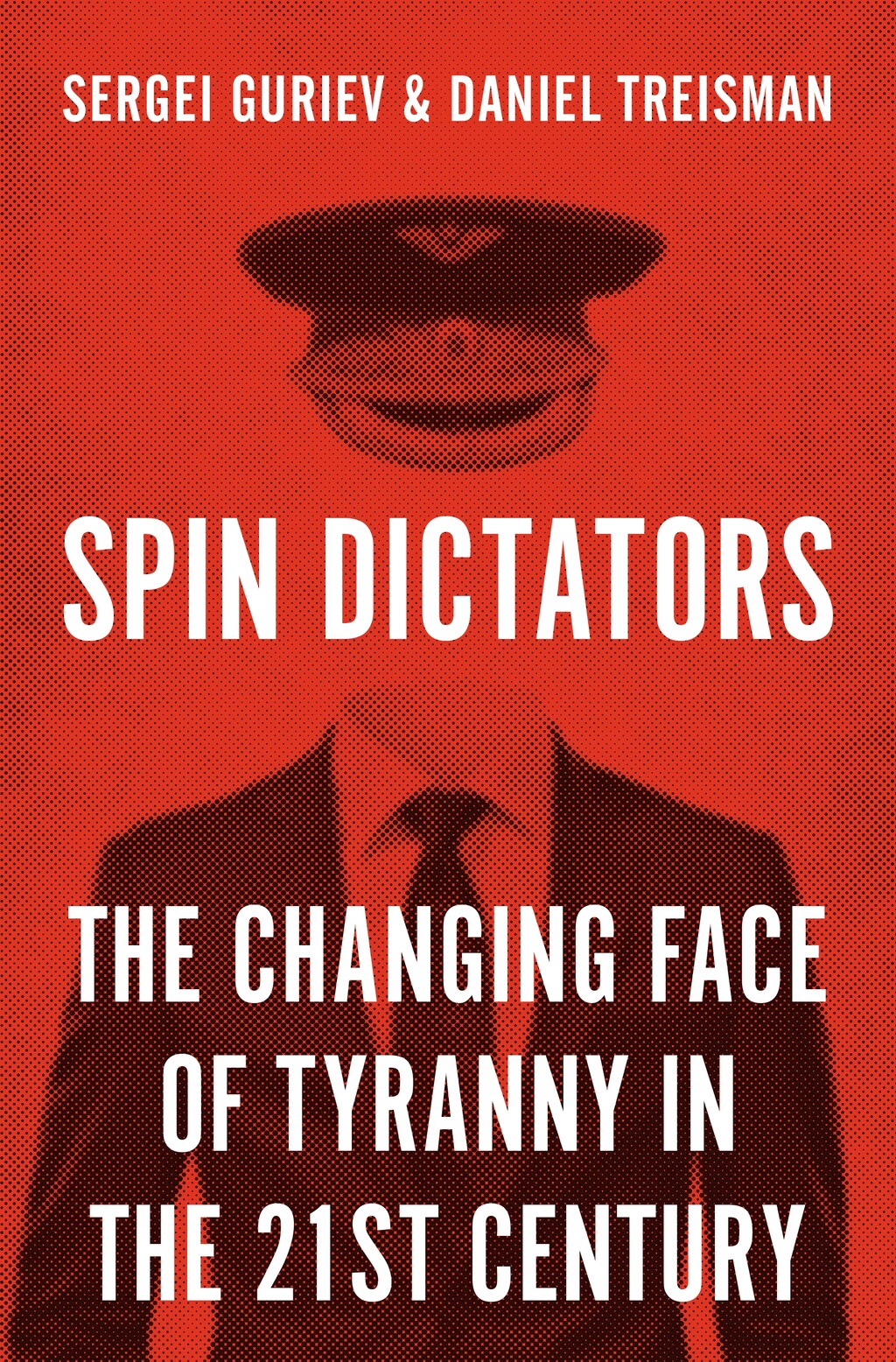 I have read "Spin Dictators" by Sergei Guriev and Daniel Treisman. My review is below.
The book took me 7 hours 22 minutes to read, that is 442 minutes. With about 220 pages of readable text (the whole book is almost twice larger, but the rest contains mostly references), this makes it about 2 minutes per page. Not exactly a book for slow reading.
Why is that?
When reading "Spin Dictators", I couldn't get rid of a feeling that I had already heard most of the propositions made. Where? In the Russian opposition-leaning media, for the most part, as well as the Western media, mostly left-leaning.
This made me… be critical about the text. I guess I have to give this disclaimer, because to an extent it means that I cannot review the book in an unbiased way. Not because I am pre-disposed to the book, but because I just have had too much exposure to a partisan political agenda.
Does it mean that things said there are a priori false? Not at all, after all, political agendas are sometimes built on genuine understanding, and in the case of "Spin Dictators", most claims are supported by evidence, even though I haven't bothered to verify that evidence. However, it did make me approach the text from a critical viewpoint.
So what the authors are saying can be roughly summarised as the following: since the last quarter of the twentieth century, dictatorships are much more based on manipulating and misleading people, rather than on inflicting fear upon them.
The first part of the book defines what a "Spin Dictatorship" is more precisely, and continues to describe its properties, such as its paradigmatic policies to democracy, international relations, propaganda, repression, censorship.
The seconds part of the book tries to establish how those "Spin Dictatorship" appeared, how they might evolve, and how democratic states should work with them.
Overall, this book left me with a feeling of unease. I cannot specify exactly where and why. Those interested may have a look at the notes in the next section of this file.
Perhaps, the most disturbing thought for me is the authors' firm belief in "international institutions". After all, international institutions are just institutions, prone to all problems of bureaucratic organisations.
One more thing that bothers me is a really slacky attitude to sovereignty. I mean, naturally, some countries are richer than others. But that approach "do what we tell, and only then we will help you" sounds too fragile to actually work as intended.
Also, they mention that presently countries have about 43% of their economies being used for import-export. This sounds way off from being reasonable. I mean, I like Japanese knives, but do I want to have no domestic knives in a shop nearby? I doubt.
Similarly, I find it hard to believe that "progress" can be achieved by instilling it into people by the more progressive. Something just doesn't sound right here. Without independence how can there be adulthood?
Vis­it­ing Sin­ga­pore in 1978, Deng had been amazed at what Lee had made of the once im­pov­er­ished colo­nial out­post. In the eleven years since then, Lee had set out to men­tor Deng and his team, ad­vis­ing them on eco­nomic pol­icy.

The next year, Li Peng, who, as China's pre‐mier, had or­dered the troops into Tianan­men Square, vis­ited Sin­ga‐pore. Lee be­rated him for stag­ing such a "grand show" be­fore the world me­dia. Li Peng, ac­cord­ing to Lee, replied with hu­mil­ity: "We are com­pletely in­ex­pe­ri­enced in these mat­ters."

More or less lists the things that are used.
Dictators use fraud to increase their outcome from 55% to 65%.
What is this chapter about? International relations? Emigration?
Spin Dictatorship usually do not fight wars. Except Putin, and even he tried to make them short.
Okay, so the "West" should use the "idea of democracy" to educate the world.
spin :: in this sense, "misinformation", public relations with a twist in order to manipulate opinion
peg :: a small usually cylindrical pointed piece (as of wood) used to pin down or fasten things or to fit into or close holes, metaphorically, "to fix something to something"
entrepôts :: (French warehouse) a very important place to keep stuff for exchange, usually on a cross of trade routes, say Hong Kong or Singapore
to schmooze :: to chitchat, to network, to have small-talk, usually in order to make connections
suave manipulator :: sophisticated, cool, and possibly a bit charming, often in a somewhat insincere or superficial way, manipulator
murky :: dark and gloomy, usually of liquids
Carnation Revolution :: peaceful revolution in Portugal in 1974, which ended Salazar's system; carnation means "гвоздика"
scribblings :: ugly quick notes
relish :: a paste, jam, marinade, a sauce, put on savoury dishes, like an additive; figuratively, enjoy much
state coffers :: "закрома родины,金库"; what the government can use to pay for stuff
to scoop :: "зачёрпывать,牢取", to pick up a dose of a liquid with a tool, such as a ladle; as opposed to Russian word, can also be a noun for the dose, or for a tool
scathe :: "to harm, to hurt", seldom used in modern English; however, "unscathed"(=unharmed), and "scathing remark"(=hurtful, vitriolic verbal attack) are frequent
restive regions :: prone to unrest and resistance, disobedience, regions of a country; restive is almost the opposite of restful
stilted :: (stilts="ходули,高跷"), often about language or speech: overly complicated, formal, unwieldy
quipped (to quip) :: to make a sharp, witty, clever remark, especially negative
as if on cue :: happening at a surprisingly good moment, matching circumstances ; "cue" is a hint for an actor to do an action on stage
queasy :: (no corresponding noun in modern English) with an uncomfortable feeling in one's stomach, squeamish
knuckle-duster :: "кастет,指节铜套", a piece of metal worn on one's knuckles as a weapon
to snarl :: to angrily growl in a menacing tone, about animals, or remark, about people
hatchet :: small axe, often used by American Indian, used as metaphorically as a sign of enmity
tough and flat-footed :: an idiom of Lee Kuan Yew, meaning to be straightforwardly aggressive
ham-fisted :: clumsy, awkward, lacking dexterity in the use of their hands
Syngman Rhee :: first President of South Korea
disbursing :: paying many sums, usually to employees as salary
pillory (public punishment) :: attach to a pole for everyone to humilitate, often used metaphorically
churro :: a sweet dish made from fried dough, long-ish oily "buns", "чурро,甜油条"
to don the garb :: dress-up in specific clothing for a specific occasion; "don" is an old for "put on", "garb" is "style, fashion, type of clothing"
effete :: (lat. effetus, exhausted) weak, decadent, lacking vigour
pounced on the un­doc­u­mented claim :: "pounced" = jump on, attack by jumping, usually about cats, here used figuratively
squawk about :: making loud, piercing noise, usually about birds, figuratively "loudly protest"
Zersetzung :: like "gaslighting", but from the government, and aiming at citizens
vying :: (infinitive "to vie") to compete or contend eagerly
turgid :: swollen or bloated due to fluid or excessive pressure, figuratively used about speech, when using convoluted language and lacking clarity
obsequious :: being excessively obedient, submissive, or ingratiating towards someone in a servile or sycophantic manner
elbow grease :: having to spend a lot of effort to do something
pastiche :: (from french "pastiche") thick meat sauce, Russian "паштет", English loan "pâté", usually used figuratively, to describe a "medley", "potpourri", mixed flowers, musical styles
double entendres :: from French "double meanings", puns, but not necessarily humourous
contrite :: (adv) deeply remorseful and genuinely regretting
gutter press :: what Russians usually mean by "yellow journalism", excessively entertaining and sensational journalism, as opposed to the actual meaning of "yellow journalism", not necessarily misleading or twisting
military fatigues :: combat uniform, but usually used to describe it worn by civilians pretending to keep some connection to the military
pliant :: like "pliable", but more in the psychological sense (ChatGPT-3.5 fails to distinguish those two, ChatGPT-4 succeeds)
comptroller :: chief accountant, or a head of the revision chamber, quality controller. in fact is like a "controller", but using an old-style French spelling for fanciness
flypasts :: ceremonial or symbolic flight by a group of aircraft or a single aircraft, usually on a parade
romp home :: win easily and comfortably, romp means "lively and frolic"
hound out :: follow, pursue, and harrass (Russian "травить собаками")
bickering :: engaging in petty, quarrelsome, or argumentative behavior, typically over trivial matters
dabbling in :: get interested without deep involvement, such as learning from popular lectures or literature, not profound
pore over (polling data) :: study very carefully, thoroughly, meticulously, with a lot of attention
squalor :: dirt, decay, and general lack of order, usually used about living conditions
rustle up :: prepare something quickly and hastily, usually about food, (rustle by itself is nervous, restless movement)
hobnobbed :: literally, "have or not", used to imply "would you like to have wine or not?", nowadays used to express the process of spending time around important guys, in order to make career or raise in ranks
stooge :: someone who is used to do dirty job with his hands, or pretends to be an innocent passerby while actually playing the game (Russian "подсадная утка")
anti-Western gadflies :: a person who interferes with the status quo of a society or an organization by posing upsetting or novel questions
rote tasks :: mechanical activities that require little or no cognitive effort or decision-making
sacrilegious :: offensive or blasphemous
umpires :: official whose responsibility is to enforce the rules of the game, usually for exotic Anglo-Saxon sports, such as cricket or baseball
cause célèbre :: controversial or highly publicized legal case
sleaze :: what we is called "dirt" in Russian and used to described political, social, moral, behaviour of people, usually not literal dirt
leeway :: a certain degree of flexibility when making decisions, in a good way